Due to the latest surge of COVID-19 (Omicron Variant), and its high transmissibility, the following procedures will be followed when learners return to school this Thursday, January 6, 2022. St. Helena Parish School District will follow the latest CDC guidelines and factual information from medical experts to ensure the health and safety of everyone during the school day.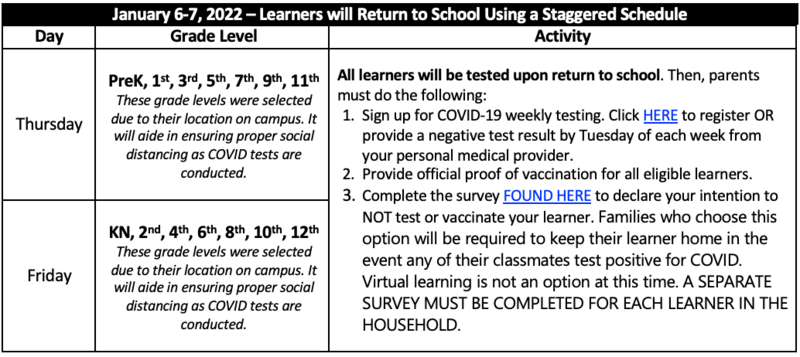 Learners without signed consents and COVID testing consents on file will NOT be tested by Southeast Community Health Systems upon return to school. Learners who registered for weekly COVID tests through LDH and Omega Diagnostics can get tested on Tuesday, January 4, 2022, between 11:00 am – 3:00 pm at their school site.
Parents must help ensure learners have their face coverings on before they get on the school bus and that they keep them while on the bus. Masks must be worn at all times during the school day.
Extracurricular activities such as basketball and powerlifting will continue. However, the number of fans attending the games will be limited.
Click HERE to register for the weekly COVID-19 Testing Program with LDH and Omega Diagnostics.
Click HERE to complete the survey declaring your intention to NOT test or vaccinate your learner.
Breakthrough cases of Omicron are occurring; however, vaccination remains critically important because it prevents severe illness, hospitalization, and death due to infection. It is also important to utilize other mitigation factors, including masking up, hand washing, and social distancing. – Ochsner Health